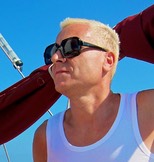 michael worobec
Mobile: 07771867992
Email: worobec@mac.com
Web: worobec.co.uk  
Instagram: instagram.com/michael_worobec/
Education
1990 - 1991:  Post Graduate Certificate in Education. Trained as Art and Design teacher.
1982 - 1986:  B. A. Honours Degree in Drawing and Painting at Edinburgh College of Art.
March 2018 – Joined Scottish Society of Artists as a member

Art Exhibition
6th to 30th August 2021 - The Edinburgh Festival Fringe  - 'The Art of Hospitality' at Crescent House, Edinburgh. A recent and retrospective exhibition of paintings and prints housed in the artist's Georgian townhouse.
7th – 8th December 2019. Organised and created an Open Event at Crescent House, Edinburgh. This involved a retrospective exhibition of my work. I supported local Edinburgh based artists and makers who were invited to set up stalls to sell their work on a non-profit basis. This event was to launch and introduce myself to the creative community of Edinburgh and create links within that community and the Edinburgh art market.
29th November – 01st December 2019 – Patriothall - Open Studios and Group Show – exhibiting two paintings.
27th to 28th April 2019 – Exhibited at "Commune", a radical arts festival in Hackney Wick London and subsequent auction to raise funds to save Stour Space, a much loved east London venue from closure.
October 2018 - Returned to Edinburgh from London and setup studio at Patriothall, Stockbridge, Edinburgh
26 October – 5 November 2017. Solo Show 'Fragments' @StourSpace London E3, curated by @UnitG Gallery
28 July 2017 - 30th July 2017. Hackney WickED Group show - Inside Out @HereEast, Olympic Park, London curated by Gavin Turk & Anna Maloney.
29th & 30th July 2017 - Open Studio - MotherXStudios, Hackney Wick, London.
16 July 2016 - 30 August 2016. The Royal Scottish Academy Open, Edinburgh. Exhibited as part of a group show.
28 November 2015-14 February 2016. The Royal Scottish Academy Open, Edinburgh. Exhibited a painting as part of the group show.
13 November-23 November 2014.The Mall Galleries. London. Exhibiting work as part of a group show ING Discerning Eye.
September-January 2014. One man show at The Financial Conduct Agency, Canary Wharf, London
September 2014, exhibited recent work at the Open Studio, Hackney Wicked Art Festival, London. August-September 2014. One man show at Avant Garde, Kingsland Road, Dalston, London.
April 2014. Shortlisted for Royal Academy Summer Open Show, London
February 6 - 27 2014: Dropr Launch, Art Exhibition. Stour Space, London
August 16-18 2013: Hackney Wicked Festival: Open studio / exhibition of recent works. London.
February 20 2013: Showcase-Cities, Group show, Rich Mix, Bethnal Green. London.
May 10 - 13 2012: The Other Art Fair, Ambika P3. Marylebone Road, London.
February - April 2012: Exhibition at The Other, Cafe/Gallery, Dalston, London.
March 5 - 31 March 2012: Exhibited four paintings in a group show, 'Social Morphologies' at the Lloyd Gill Gallery, Weston-Super-Mare.
November 2012: Shortlisted for The National Open Art Competition, Chichester.
July 29 - 31 July 2011: Hackney Wicked Festival: Open studio/ exhibition of recent works.
April - May 1995 : 'I saw you and loved you': A one-man show of paintings at the Blue Moon in Edinburgh.
November 1987: Group Show At Gallery 369, Edinburgh to celebrate the centenary of St Thomas of Aquins School.
January 1987: 'Fair Weather Friends': A group show at the Calton Studios, Edinburgh. Organised and hung show appearing on Scottish Television's, Scotland Today programme advertising show with a conceptual snow sculpture on Calton Hill.


Work in private collections:
Germany, USA, Italy, Sweden, New Zealand and the United Kingdom.


Diverse experience
Interior design and customising of furniture. Garden design and planting. Literature, Cuisine. Theatre design; Art Director for Children and Fringe Theatre at Edinburgh Festivals. Fashion Model. Performance and acting, appearing in Fringe films. Vocalist; recording and performing in Pop band.